Fluorescent pens race across the translucent surface, drawing lines and curves, illustrating and annotating a concept in glowing pink or green. Cameras in the darkened room capture the illuminated figures on the board. This is the future of online education — not because of how it looks, but because of how easy it is to use.
The lightboard is a new kind of teaching tool, a simple concept with lasting results. In a dark room, a lecturer stands behind a sheet of plexiglass and draws or writes with fluorescent markets, which are brightly lit from LED lights lining the sides of the plexiglass. Because the camera feed is flipped and the lecturer is behind the glass, the lecturer doesn't obscure any of the writing on the board. The lecturer can speak and explain ideas quickly with visual aids, and gesture or point out parts of the board using his or her hands. The video is captured and edited into short, efficient bits of teaching.
Assistant Professor Arttu Polojärvi, who brought this version of the lightboard to life along with Kalle Kataila, has used the board extensively since its installation, and finds the experience seamless. "Teaching with a lightboard also allows the teacher to be in closer contact with students, as you are facing the camera while you explaining things," said Polojärvi.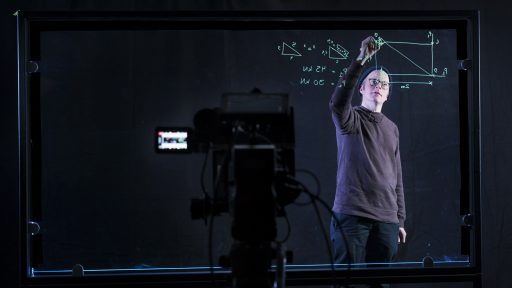 With the lightboard, lessons are easier to deliver for lecturers and easier to digest for students. Pairing the lecturer's narrative with their visual aid, students can more easily understand the short videos. Kataila says the lecturers who have used it find it so straightforward that they hardly need to prepare. Polojärvi said using it is effective, as "its size allows the problems you present to be processed in a way that brings out their underlying connections." The only difference is the output: a professional, engaging and persistent video of their material.
The lightboard is a joint project between Aalto University's Learning Services, IT services unit, and Aalto Studios. Built based on other existing lightboards used for teaching purposes, this is the first one to exist in this capacity at Aalto University. Kataila and Assistant Professor of ice mechanics Arttu Polojärvi developed the project together. The lightboard is the result of experiments by Polojärvi to find an optimal way to share chalkboard demonstrations easily online.
Use the board
Get in touch with Aalto Studios Producer Helena Bäckman about using the lightboard — it's in a popup studio space within Aalto Studios at Otakaari 7B.