This document is currently being written and will update during the next weeks.
The second computer in the Self Service Studio is hooked up to this prompter display, letting you place scrolling text in the line of sight to the camera behind the screen. This document explains the initial setup of the hardware and helps you use the software for presenting.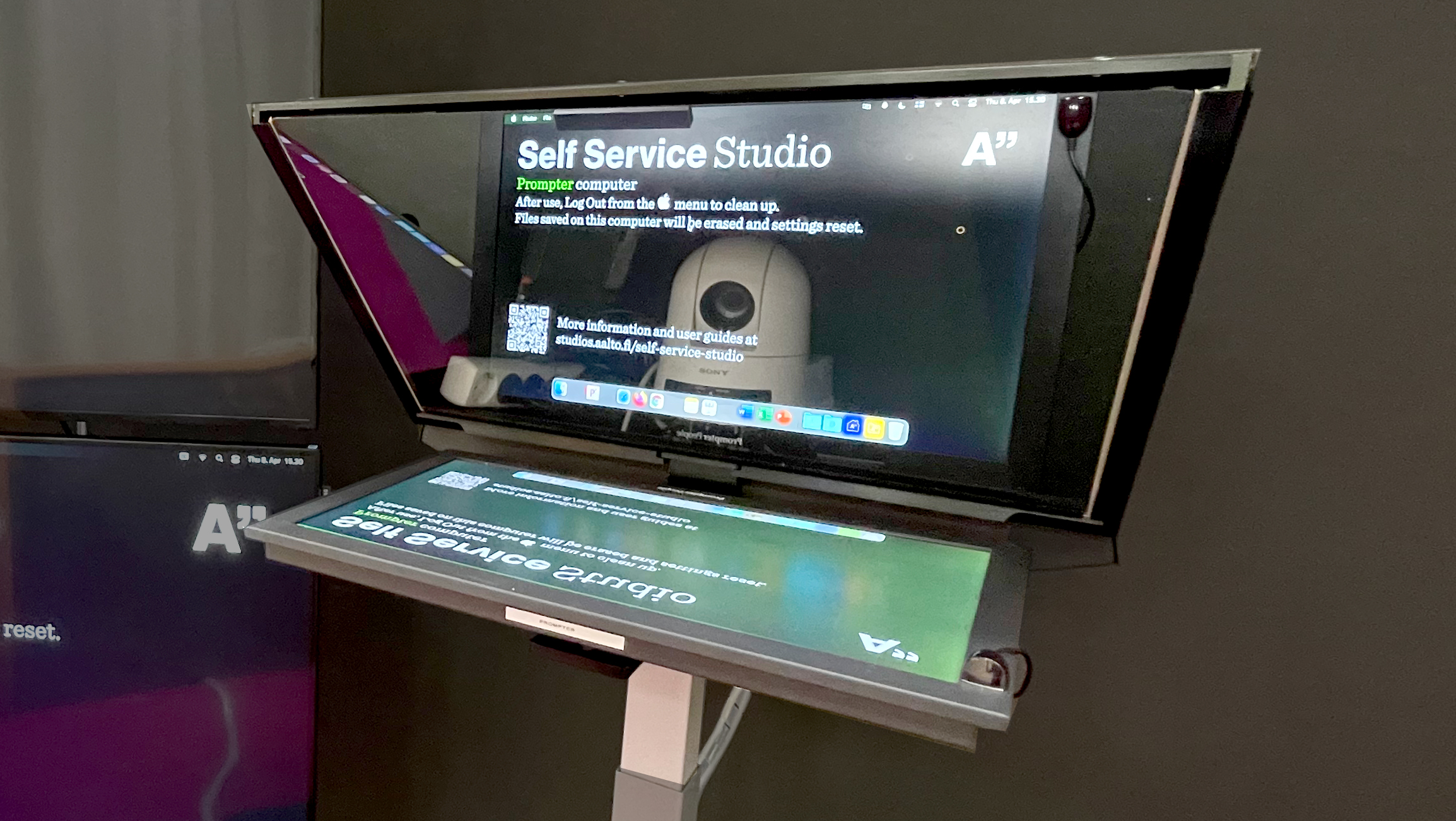 Set up the hardware
On the desk, locate the mouse and keyboard labeled 'Prompter computer'. Also note the secondary display next to the keyboard, which mirrors the prompter for easier use. Lastly, a round shuttle controller is available for controlling the prompter software.
By default, an image should be displayed on both the prompter screen and the secondary screen on the desk. If not, please refer to our Troubleshooting document.
Sign in
Sign in by choosing 'Self Service Studio User' with no password. We currently don't support signing in using your Aalto credentials, as these are custom built workstations. You can later sign in to spesific services as required.
If some previous user has already signed in, but not out, you'll already see a desktop view as pictured above. It's a good habit to sign out and back in, to make sure any servers and services they may have connected to are signed out from.
This computer is not yet set up to automatically clean up the settings after use. Be sure to log out after using it to disconnect from any services you may have signed in to.
Software
Getting your texts to the computer
We currently don't support attaching devices, such as laptops or thumb drives, to our hardware.
The supported options are:
Use a web browser to connect to a cloud service, such as Microsoft OneDrive, Google Drive for Aalto or Apple iCloud.
Use Microsoft Office apps to sign in and access your documents instead of navigating through OneDrive
Connect to Aalto University's 'Home' and 'Work server directories using the shortcuts in the Dock.

Using Power Prompter Pro
[[ Basic Guide ]]
[[ Link to manufacturer guide at https://suborbital.io/powerprompter/docs/ ]]