Getting your own podcast show up and running at Aalto University is more than possible. We have both the resources and support to make sure you get from initial planning to leaning back and listening on your phone.
Getting started
You can begin your journey with Aalto Communications to get production support and end up in the Aalto University portfolio in services like Apple Podcasts, Google Podcasts and Spotify. Aalto Communications has certain quality guidelines and processes that they explain well in their 'Podcast planning and production' primer.
Alternatively, if your content is more experimental or you're more of a do-it-yourself person, we have a great pipeline all the way from recording to publishing in these same global services, provided by Aalto Studios. You can start by getting to know our A Pod recording booth and then setting up a consultation session with us at the Web Studio; we'll walk you through all the steps necessary.
Hosting
When you have the audio files, episode descriptions and a catchy name for your show, it needs to be put on the internet.
Regardless of where you started, your media ends up in a custom hosted WordPress installation here at Aalto Studios, from where we stream the audio, images and text to listeners' devices. Adding content is easy and straight-forward, and new episodes reach your listeners immediately.
Option 1 : Only the podcast, please
This WordPress can function as the podcast feed source only, without any visible pages for people to see. This is great if you'd rather like to create any accompanying web pages in the aalto.fi – web site. The audience uses their Podcast apps to discover and listen to the episodes, and any text and images are rendered in the player app. Shows like Alustatalouden faktat ja myytit | Aalto-yliopisto do this.
Option 2 : Podcast and a full web site to go with it
Alternatively, you can use your new WordPress site to build a whole web site experience of your own, like oravan pesä – a gatherer of voices or TuTa Audiobooks – at Aalto University. This is great for more experimental projects, or ones where you don't want the strong Aalto University brand to overpower collaborators' brands. An address of your choosing can be added to the site, or you can stick with our podcast.aalto.fi/yourname.
Publishing
To let the world know your show exists, it can be submitted to the directories at Apple Podcasts, Google Podcasts and Spotify. These services will list and categorise your show for easy discovery and for listening in apps, pointing peoples devices to pick up the episodes from the WordPress site.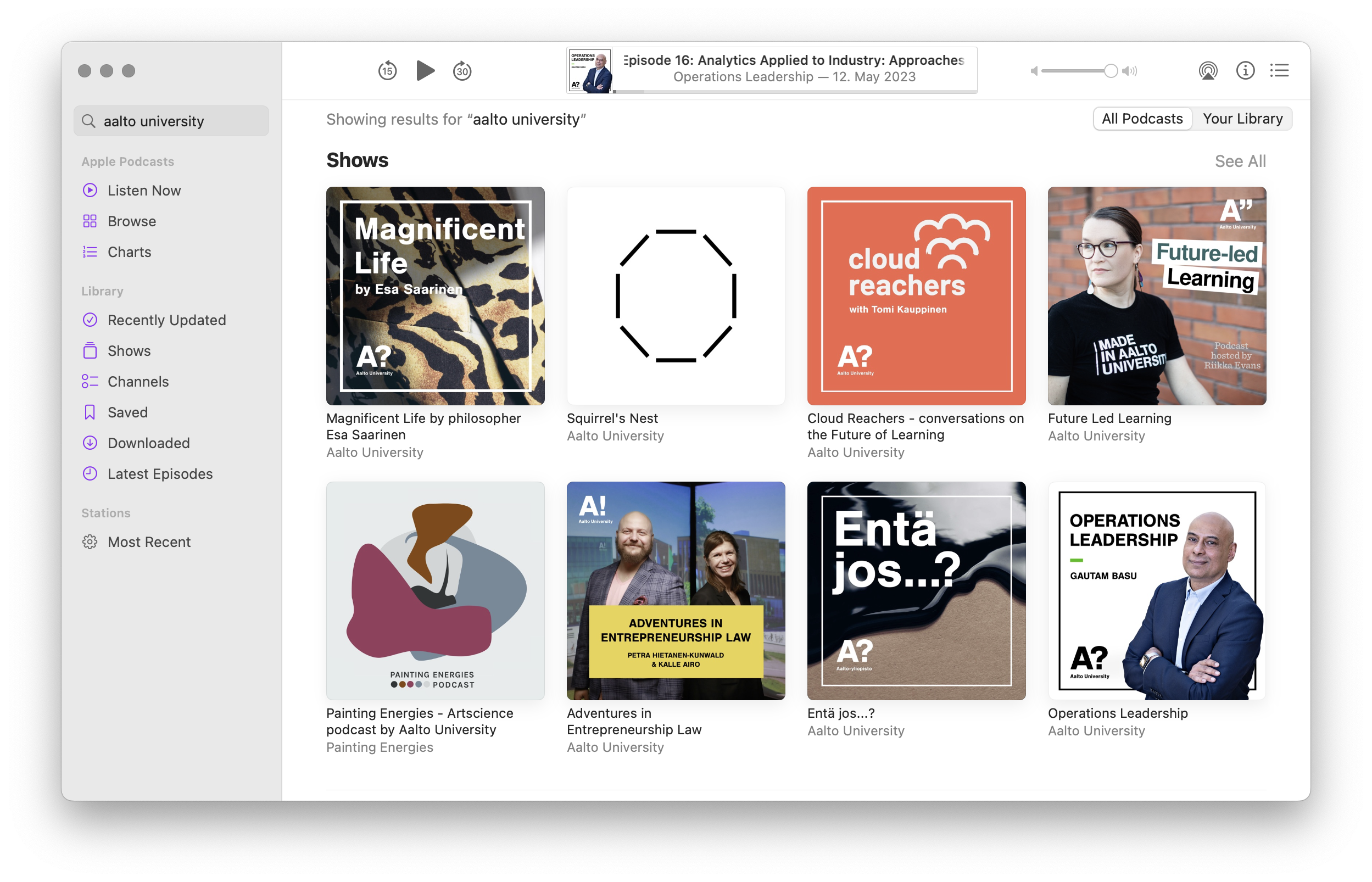 As usual, we have alternatives to match your needs:
Option 1 : The Aalto University portfolio
If you started your journey with Aalto Communications, you're already on your way to the Aalto University portfolio in these services. For more details, see their guide and contact them for more details.
Option 2 : Let Aalto Studios do it
Other podcast shows can be added by us, using our Aalto Studios accounts in these services. The only difference to option 1 is that your show doesn't appear in the Aalto Communications curated collection.
Option 3 : Do-it-yourself for maximum control
You can also create a free account at each of these services yourself, and get direct access to listener statistics and other features. These directories are simply a place for you to paste in the address of your show and check a few boxes; they'll take care of the rest.
Lastly, you don't need to publish your show at all. You can hand people a direct link to the feed, or have people visit a web page to listen to the audio.
Get in touch
For any questions, you can always start by mailing us at webstudio@aalto.fi or dropping by at the Aalto Podcast Support Teams team. We are happy to meet you over a Zoom or Teams call and walk you through the steps in great detail.